NFL player Aaron Hernandez murder case: Second arrest made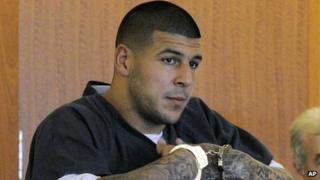 A second arrest has been made in a murder investigation involving American football player Aaron Hernandez, prosecutors say.
Carlos Ortiz, 27, was detained in Connecticut accused of being a fugitive from justice, say authorities.
Mr Hernandez, 23, was charged on Wednesday with murder in relation to last week's discovery of a fellow player's body in Massachusetts.
The NFL player has now been dropped by his team, the New England Patriots.
No 'special treatment'
Mr Ortiz, who was arrested on Wednesday in Mr Hernandez's hometown of Bristol, is in custody on bail of $1.5m (nearly £1m).
Mr Hernandez was taken from his home south of Boston, Massachusetts, in handcuffs over the death of Odin Lloyd, 27, a semi-professional player.
He is also charged with firearms violations.
During a bail hearing on Thursday, lawyer James Sultan said Mr Hernandez was "not looking for any special treatment from this court" and said the NFL player would not be a flight risk.
But Judge Renee Dupuis disagreed and rejected Mr Hernandez's request to be released on bail.
"Given all the circumstances in this case, despite the fact that he has a fiancee and a baby and is a homeowner, he also has the means to flee," she said. "A bracelet just wouldn't keep him here - nor would $250,000."
Lloyd was found in a quiet corner of an industrial park not far from Mr Hernandez's home.
According to the victim's family, the two men had been friends.
Lloyd's girlfriend and Mr Hernandez's fiancee - who is the mother of his eight-month-old baby - are sisters.
The victim had been shot multiple times, authorities said. The two men are believed to have had an argument some days earlier.
Two days after that dispute, Mr Hernandez allegedly called two unnamed friends and asked them to come to Massachusetts from the neighbouring state of Connecticut.
The group is said to have picked up Lloyd at home in the early hours of 17 June. Surveillance footage from Mr Hernandez's home appears to show him leaving with a gun.
Prosecutors say that about an hour later, Lloyd texted his sister: "Did you see who I am with.''
When his sister asked whom, Lloyd replied "NFL", adding "Just so you know".
Minutes later, workers at the industrial park reported hearing gunshots, say prosecutors.
Mr Hernandez was drafted by the Patriots in 2010 after playing at the University of Florida.
His contract was renewed last year in a $40m deal.