Laurent Blanchard selected interim Montreal mayor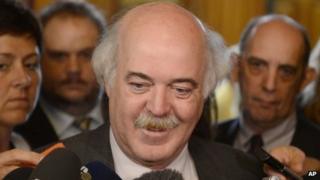 For the second time in eight months, a new mayor has taken the helm in the Canadian city of Montreal.
Councillors selected Laurent Blanchard to replace interim Mayor Michael Applebaum, who resigned last week following his arrest on fraud charges.
Mr Applebaum had replaced Gerald Tremblay, who quit in November in a campaign finance scandal.
The shake-ups at Montreal's city hall come amid a high-profile anti-corruption campaign in Quebec.
Both former mayors deny the allegations.
A public inquiry heard in 2012 that Mr Tremblay was present at a meeting in which illegal donations for his party were discussed. He resigned shortly thereafter and has not been charged.
Mr Applebaum, who faces 14 charges including defrauding government, breach of trust and conspiracy, has said he would "do everything I can to prove the accusations against me are unfounded".
'It's not easy'
The offices of the borough he previously represented were among those raided by Quebec's anti-corruption investigators in February.
Mr Blanchard, previously the city's executive committee chairman, has said he hopes to show the city can be run harmoniously between now and the general election in November.
"It's not easy to take over the city of Montreal after what happened in the last months," Mr Blanchard was quoted by CTV News as saying. "It is what has to be done and I will try to do it the best possible."
Before becoming executive committee chairman in November, Mr Blanchard was a long-time member of the opposition party while Mr Tremblay was in office. He began serving on the city council in 2005 after a career in newspaper publishing.