Red panda Rusty found in Washington DC neighbourhood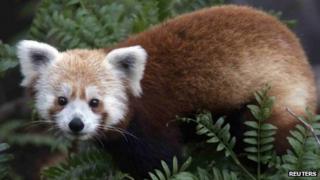 A red panda missing from the US National Zoo in Washington DC has been found in a residential area about a mile away, a spokeswoman has said.
Rusty was found in a bush in the Adams Morgan neighbourhood. He had last been seen on Sunday evening, and a search was launched at 08:00 EST on Monday.
Rusty has been taken to an animal hospital for a check-up, the zoo said.
Unlike giant pandas, red pandas are not part of the bear family. They are only slightly larger than domestic cats.
Rusty is not known to be an aggressive animal, although zookeepers warn he could bite if he feels threatened or scared.
The red panda arrived at the National Zoo, part of the federally funded Smithsonian Institution, from the zoo in Lincoln, Nebraska, in April. He has been on display in the zoo's Asia Trail in Washington DC since June.
Rusty, who will turn one in July, was brought to Washington DC to mate with a female red panda called Shama.
Red pandas are native to the Himalayan Mountains and parts of southern China.