'Ex-gay' group Exodus International shuts down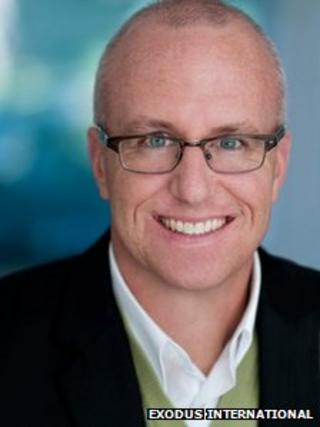 A prominent US Christian group that purported to rid gay people of same-sex attraction through prayer has said it is shutting down.
Three-decade old Exodus International made the announcement alongside an apology from President Alan Chambers to people "hurt" by its treatment.
He acknowledged "the shame and guilt you felt when your attractions didn't change".
The move comes as California seeks to ban "conversion therapy" of gay people.
The state passed a law in September banning the therapy for minors, with Governor Jerry Brown saying it had "no basis in science or medicine". The law only applies to licensed therapists, not ministers or others; supporters of the therapy have appealed.
Also, last year the psychiatrist who conducted a 2003 study purporting to validate the treatment Exodus and other groups offered recanted his study and apologised.
'Looking for change'
In a statement entitled I Am Sorry and directed at gay, lesbian, bisexual and transgender people, Mr Chambers, who is married to a woman, acknowledged "trauma that I have caused" and said he had kept quiet about his own same-sex attractions.
While saying he could "not apologize for my deeply held biblical beliefs about the boundaries I see in scripture surrounding sex", Mr Chambers said he was "sorry we promoted sexual orientation change efforts and reparative theories about sexual orientation that stigmatized patients".
"I am sorry that there were times I didn't stand up to people publicly 'on my side' who called you names like sodomite - or worse... I am sorry that I have communicated that you and your families are less than me and mine."
Board members of Exodus said the decision to shut the organisation down had been unanimous.
"We're not negating the ways God used Exodus to positively affect thousands of people, but a new generation of Christians is looking for change - and they want to be heard," said board member Tony Moore.
The group said locally affiliated ministries, "which have always been autonomous", will continue, but "not under the name or umbrella of Exodus".
Gay rights activist and blogger John Aravosis told the BBC that he was initially cheered the group was shutting down, but believed the apology did not go far enough.
"It keeps talking about all the 'good' work they did being 'overshadowed' by a few bad apples," he said. "What part of trying to convince gay people that they could be cured by quack science was good?"