Arrest in death of US man dribbling football to Brazil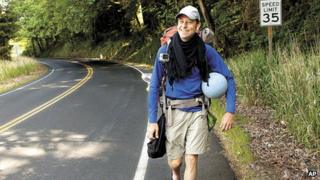 An Oregon motorist suspected of running down a US adventure seeker on a quest to dribble a football from Seattle to Brazil for charity has been arrested.
Scott Van Hiatt is charged with criminally negligent homicide in the death of Richard Swanson.
Swanson had set off from Seattle in May aiming to reach Sao Paulo in time for the World Cup opener on 12 June 2014.
His itinerary would have taken him through 11 countries including Guatemala, Mexico and Colombia.
He said he hoped to raise money for the One World Futbol Project, which donates durable footballs to developing countries.
'Trip of a lifetime'
On 14 May, Swanson was hit from behind by a lorry while walking south in Oregon along a busy coastal highway. Investigators believe he was not dribbling a football at the time.
Police said Hiatt stayed at the scene and had been co-operating with investigators. He faces up to 10 years in prison if convicted.
Hiatt has numerous traffic-related violations in his past, including convictions for failing to drive on the right side of the road, speeding and driving without insurance, the Oregonian newspaper reports.
Before leaving, Swanson wrote on his now defunct website: "It will be a trip of a lifetime where I will push myself further than I ever thought possible."
In a YouTube video, he added he had always wanted to go to the World Cup and he wanted to honour the tournament by dribbling a football.
After losing a job as a graphic designer, with no mortgage and two grown sons, Swanson said "all the pieces seemed to fit" for the trip.