NSA leaks: Father urges Snowden not to commit 'treason'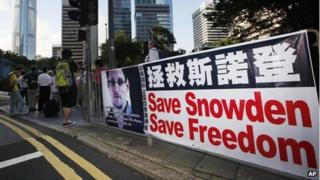 The father of Edward Snowden, the ex-CIA worker who leaked top secret information on US surveillance programmes, has issued a public plea urging his son to not commit "treason".
"I hope, I pray and ask that you will not release any secrets that could constitute treason," Lon Snowden said in an interview with Fox News.
He also asked his son, currently in hiding in Hong Kong, to "face justice".
But Edward Snowden has vowed to fight any extradition attempts by the US.
On Monday Edward Snowden, who most recently worked as a contract computer technician for the National Security Agency (NSA), the US electronic spying agency, said US officials had destroyed any possibility of a fair trial by labelling him a traitor.
"The US government, just as they did with other whistleblowers, immediately and predictably destroyed any possibility of a fair trial at home, openly declaring me guilty of treason," wrote the 29-year-old in a live online chat.
Former Vice-President Dick Cheney has denounced Edward Snowden as a "traitor", while two influential members of the US Congress have accused the leaker of betraying his country.
Meanwhile, on Tuesday morning, NSA Chief Gen Keith Alexander told a House intelligence committee that information gained from the programmes revealed by Edward Snowden had helped thwart 50 attacks.
He and other senior officials testified about four cases in which they said the surveillance programmes had "contributed" to stopping an attack, including Najibullah Zazi's alleged plot to bomb the New York subway system and a "nascent" plan to bomb the New York Stock Exchange.
The programmes "assist the intelligence community to connect the dots", Gen Alexander told the panel in a rare open hearing.
'Man of principle'
In an interview with Fox News, Edward Snowden's father said he believed his son was a "man of principle".
"I know you're your own man and you're going to do what you feel you have to do," Lon Snowden said in a statement addressed to his son.
"I don't know what you've seen but I just ask that you measure what you're going to do and not release any more information."
Lon Snowden told the US broadcaster he was "saddened" by his son's decision to leak the information, but also criticised the US government's alleged surveillance programme.
"I don't want them reading my email. If we say, 'We're going to have to sacrifice our freedoms because of the threat of terrorism', well, the terrorists have already won," he said.
But he added that he would prefer to see his son face time in prison than remain in Hong Kong.
"I would like to see Ed come home and face this," he said.
"I have faith in our justice system: I would rather my son be a prisoner in the US than a free man in a country that [does] not have the kind of freedoms that we have."
Edward Snowden fled to Hong Kong shortly before the scandal broke. His leaks revealed that US agencies had systematically gathered vast amounts of phone and web data.
He also alleged that US intelligence had been hacking into Chinese computer networks.
The contractor said he had decided to speak out after observing "a continuing litany of lies" from senior officials to Congress.
"The US government is not going to be able to cover this up by jailing or murdering me," he said.
Although the leaks have angered the US government, Mr Snowden has so far not been charged or faced an extradition request.