US reveals Guantanamo 'indefinite detainees'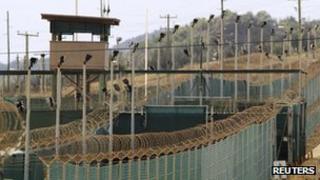 The US has listed 46 inmates held at its military prison in Guantanamo Bay who it says it does not have the evidence to try but are too dangerous to release.
It revealed the men's names in response to a freedom of information request by the Miami Herald.
Most are from Yemen and Afghanistan.
President Barack Obama vowed last month to renew efforts to shut the prison. Lawyer Clifford Sloan has been appointed to oversee the closure.
Mr Sloan, whose appointment was officially announced on Monday, will be tasked with releasing detainees cleared for transfer.
Of the 166 detainees at Guantanamo in Cuba, 86 have been cleared for transfer if conditions can be met, including 56 from Yemen.
Hunger strike
The list of prisoners designated for indefinite detention was drawn up in 2010 but not made public.
It includes 26 Yemenis, 12 Afghans, three Saudis, two Kuwaitis, two Libyans, a Kenyan, a Moroccan and a Somali.
Two Afghans who were on the list have died, one of a heart attack and one who committed suicide.
The US says it either does not have sufficient evidence to try the men, or that the evidence it has is tainted by coercion or abuse.
After taking office in 2009, Mr Obama promised to close the prison within a year, but his plans to transfer detainees to maximum security prisons in the US and to try some detainees in the civilian justice system met fierce resistance from both parties in Congress.
More than 100 detainees have joined a hunger strike which began in early February to protest against the failure to end their detention without charge. Many have been held for more than a decade.
Officials say 44 of those are being force-fed through nasal tubes.
On Monday, five prisoners accused of helping orchestrate the 11 September 2001 attacks against the US returned to a military court in the Guantanamo camp for the first time since February, for a week of pre-trial hearings.
They include Khalid Sheik Mohammed, the alleged mastermind of the attacks.
The government has requested that a trial to be scheduled in late 2014.