Fox News sued over JoDon Romero on-air suicide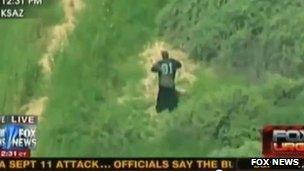 The mother of three children of a US man whose suicide was inadvertently broadcast live on Fox News Channel has sued the network, claiming infliction of emotional distress.
In September, JoDon Romero, 33, killed himself after an extended police chase.
Initially unaware of the man's identity, his three children later watched the broadcast on the internet.
The broadcaster has apologised for the "severe human error" that led to the death's airing.
Angela Rodriguez, the mother of JoDon Romero's children aged about nine, 13 and 15, wrote in a court filing in the US state of Arizona that the children suffered severe emotional and psychological trauma.
She is suing the broadcaster for unspecified damages.
On 28 September Romero shot himself in the head at the end of an hour-long police chase after stealing a car at gunpoint, as a news helicopter flew overhead. Police officials said he had a long criminal history and was wanted for parole violations.
Post-traumatic stress disorder
Filed earlier this month, the suit against Fox News Channel and its parent company News Corp alleges that on that day, Romero's children heard rumours at school of a suicide on live television. They went home and searched for the footage on YouTube, only realising it was their father while watching.
Immediately following the broadcast of the death, the Fox News presenter apologised to the audience, saying the incident should have been censored using a delay. Subsequently, a Fox News executive also apologised and put the broadcast down to "severe human error".
Ms Rodriguez says her children "have been, and continue to be, severely traumatised" by the footage and have shown symptoms of post-traumatic stress disorder, including flashbacks and sleep disturbances.
She says the elder two children have not returned to school since their father's death.