US lawyer to be Guantanamo Bay closure envoy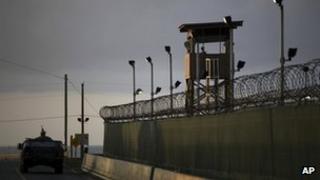 A Washington lawyer is set to become the diplomatic envoy charged with overseeing the closure of the US military-run prison at Guantanamo Bay.
Clifford Sloan will reopen the Office of Guantanamo Closure, which was shut in January when his predecessor was reassigned by the Obama administration.
Mr Sloan is a close confidant of the Secretary of State, John Kerry.
President Barack Obama vowed last month to renew efforts to shut the prison, amid a hunger strike by detainees.
He said it was "contrary to who we are" and harmful to US interests.
After taking office in 2009, Mr Obama promised to close the prison within a year, but his plans to transfer detainees to maximum security prisons in the US and to try some detainees in the civilian justice system met fierce resistance from both parties in Congress.
'Conviction'
A formal announcement of Mr Sloan's appointment was expected on Monday, state department officials said.
However, in a statement released on Sunday, Mr Kerry said: "I appreciate his willingness to take on this challenge."
"Cliff and I share the president's conviction that Guantanamo's continued operation isn't in our security interests," he added.
An important task for Mr Sloan will be to resolve the fate of low-level detainees from countries with security problems. Of the 166 detainees at Guantanamo, 86 have been cleared for transfer if conditions can be met, including 56 from Yemen.
More than 100 detainees have joined a hunger strike which began in early February to protest against the failure to end their detention without charge, many of them for more than a decade.
Many of those on hunger strike are force-fed through a nasal tube.