Boston woman pays $560,000 for two parking spots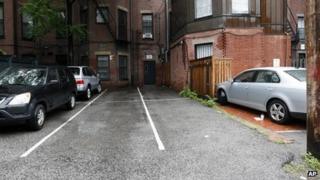 Two adjacent parking spots in the US city of Boston have been auctioned for $560,000 (£357,000), almost double the average price of a home in the region.
Bidding for the patch of asphalt began at $42,000 during an onsite auction in the city's upmarket Back Bay area.
They were sold by the Internal Revenue Service, which had seized them from their original owner over a tax debt.
Lisa Blumenthal, who lives in a multi-million dollar home nearby with three existing parking spots, was the buyer.
She told the Boston Globe the spaces would be useful for guests and workers.
The record price for a single parking spot in Boston is $300,000, also in Back Bay.
The average price of a single-family home in Massachusetts is $313,000.