Miami sports bar deck collapses during NBA finals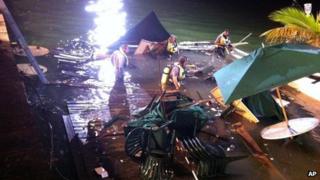 Two people were in a serious condition after the outdoor deck of a sports bar in Miami collapsed during the televised NBA finals, US police said.
Up to 100 patrons were watching the basketball game between the Miami Heat and San Antonio Spurs when the deck at Shuckers Bar & Grill suddenly caved in.
Dozens of people fell into the shallow waters of Biscayne Bay, officials said.
In total, 24 people were wounded in the incident involving the deck, which was about 7ft (2m) above the water.
Police said everyone had been rescued from the water and all those involved in the accident been accounted for.
'Like a freight train'
The collapse occurred on Thursday evening just minutes before the halftime, according to local media.
Fire engines and rescue divers rushed to the scene at 79th Street Causeway in North Bay Village.
Helicopters circled over the bay as emergency services carried people away on stretchers, the Miami Herald reports.
A customer told the paper she and a friend were watching the game when the structure collapsed within a split second.
"There was a crack, and then we were in the water," Crystal Infante was quoted as saying.
She added that it was "really hard to get out" because tables, chairs and umbrellas were floating in the bay.
Eyewitness Chris Volz said he was sitting at one end of the bar when "the deck went down like a V".
"It sounded like a freight train, then everyone was gone."