Colorado wildfires prompt evacuation of thousands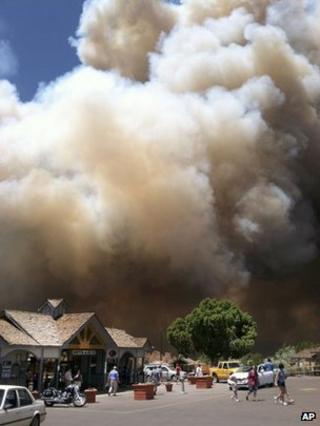 Colorado is facing a trio of wildfires in hot, dry conditions, including one threatening the world's highest suspension bridge.
The blazes have razed dozens of homes and prompted the evacuation of nearly 6,500 people, including hundreds of inmates from a prison.
One of the fires, spanning 300 acres (121 hectares), is near the Royal Gorge Bridge on the Arkansas River.
A second fire is raging north of the city of Colorado Springs.
A third blaze, sparked by lightning, was burning further north in Rocky Mountain National Park.
Officials have also closed and evacuated hundreds of people from another park near Royal Gorge Bridge, the world's highest suspension bridge at 956ft (291m), and parts of a nearby highway.
Dangerous conditions
A local newspaper reported that as of 18:00 local time on Tuesday (0:00 GMT on Wednesday), the bridge itself was threatened by the blaze. Tourist structures on either side of the Arkansas River are said to have already been damaged.
Weather officials have issued a wildfire warning covering southern Colorado.
Between 40 and 60 homes are believed to have been destroyed, and about 6,400 people have been evacuated, sheriff's officials said.
In the Black Forest area north of Colorado Springs, the fire raged through the Cathedral Pines neighbourhood, where some home values topped $1m (£639,000).
The area is not far from Waldo Canyon, where a blaze last year burned 346 houses and killed two people.
But no injuries have been reported so far, police lieutenant Jeff Kramer said.
Meanwhile, south-west of Colorado Springs, more than 900 prisoners had to be evacuated from a state prison early on Wednesday morning.
Medium and low-risk inmates were taken away by bus, including two dozen sick convicts who were sent to an infirmary in Denver, some in wheelchairs, to protect them from smoke.
The fire has not yet reached the prison, but it has engulfed three structures near Canyon City.
The Colorado Springs fire department described the fire as "aggressive" and "moving quickly". The nearby US Air Force Academy was among those sending resources on the ground to fight the blaze.
A thick plume of grey smoke could be seen from Denver, about 65 miles (104km) to the north.