Canadian astronaut Chris Hadfield to retire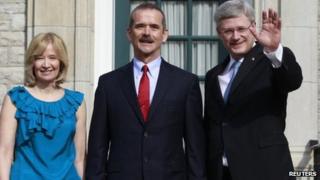 A Canadian astronaut who captivated the world with his photos and videos on social media from the International Space Station (ISS) is retiring.
Cmdr Chris Hadfield, 53, says he is making good on a promise to his wife to move back to Canada after 30 years.
The astronaut was the first Canadian to command the ISS. He returned from his third space mission in May.
The Ontario native will retire on 3 July from the Canadian Space Agency (CSA) and move home from the US.
He has lived in Texas since he became a fighter pilot in the late-1980s and was later assigned to the Nasa Johnson Space Center in Houston by the CSA.
'True Canadian hero'
Cmdr Hadfield previously retired from the Canadian Air Force in 2003 after 25 years of service.
In a press conference outside Montreal, Cmdr Hadfield said he was ready for the next stage of his life.
"I've had such an interesting career and after 35 years it's time to step down," Cmdr Hadfield was quoted as saying by the CBC. "I'm the last astronaut of my class that's still around."
He said he had no immediate plans on his next move, especially as he works on physically recovering from his time in space.
While in space, Cmdr Hadfield tweeted about his life at the ISS to his one million followers, sharing striking images of the Earth.
His zero-gravity cover of David Bowie's Space Oddity, made as he stepped down from command of the station, went viral in May.
"Chris Hadfield has inspired all Canadians, especially our next generation of scientists and engineers," Chris Alexander, parliamentary secretary for defence, said in a statement.
"His exceptional career achievements make him a true Canadian hero and icon."