Former Secretary of State Hillary Clinton joins Twitter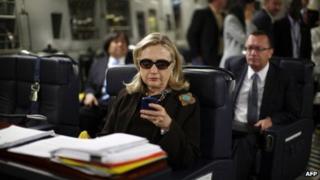 Former US Secretary of State Hillary Clinton has joined Twitter, poking fun at her own image and keeping political classes guessing about her future.
Her account, @HillaryClinton, was verified within hours and quickly gained more than 100,000 followers.
In her first tweet, the former US senator thanked the creators of the online meme Texts from Hillary.
She jokingly styles herself as a "pantsuit aficionado", "hair icon" and "glass ceiling cracker".
Her biography section begins by describing herself as "wife, mom, lawyer", before going on to list a few of the many high-profile public positions she has held.
The last line of her Twitter bio simply states: "TBD...", meaning "to be determined".
Polling suggests Mrs Clinton would be a front-runner for the 2016 Democratic presidential nomination if she chose to run, but she has remained coy about her plans.