Texas actress 'posted ricin letter to Obama'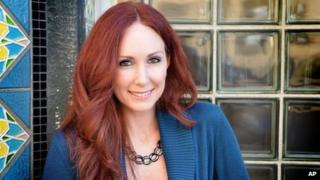 An actress from Texas has been charged with threatening the president after allegedly posting ricin-laced letters to Barack Obama.
Shannon Richardson, 35, a pregnant mother of five, first accused her husband of sending the letters, but authorities say she sent them.
Agents in protective suits searched her home in New Boston on Wednesday.
She has had small roles in The Vampire Diaries and The Walking Dead, according to the film database IMDB.
Lie-detector test
On Friday, Ms Richardson made a brief appearance in a courtroom in Texarkana, Texas, accused of sending a threatening communication to the president.
The federal charge carries up to 10 years in prison, according to US attorney's office spokeswoman Davilyn Walston.
Officials say Ms Richardson contacted the FBI on 30 May to implicate her estranged husband in the letters, which were also sent to New York City Mayor Michael Bloomberg.
But investigators found a number of inconsistencies in her story and she failed a lie-detector test, according to an FBI affidavit.
During an interview with authorities on Thursday, Ms Richardson is said to have admitted posting the letters, knowing they contained ricin.
But she claimed her husband had typed them before making her post them, the affidavit states.
Three letters were sent from Shreveport, Louisiana, on 20 May, without a return address.
No charges have been filed against her husband, Nathaniel Richardson.
His lawyer, John Delk, told the Associated Press news agency on Friday his client was innocent and pleased with his wife's arrest.
Mr Delk said his client, a 33-year-old military mechanic at a Texarkana Army depot, was in the process of getting a divorce from his wife, whom he married in October 2011.
'Outstanding work'
The lawyer said the couple were expecting their first child this October and that Ms Richardson has five other children from previous relationships.
Mayor Bloomberg issued a statement on Friday thanking investigators "for their outstanding work in apprehending a suspect".
The letter sent to him referenced his support of stricter gun control, reportedly containing a threat to "shoot in the face" anyone who came for the sender's guns.
In a separate case, a Mississippi man was charged earlier this month with sending ricin-laced letters to President Obama, a judge and a state senator.
In that case, James Dutschke is accused of sending the letters to frame a local Tupelo Elvis impersonator, with whom he had reportedly fallen out.
Another man has been arrested in Washington state in connection with letters sent to a judge, a local air force base, a post office and the president.