San Onofre California nuclear plant to shut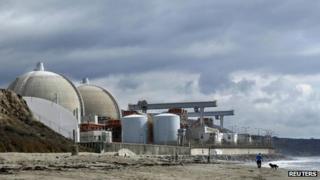 A California nuclear power plant will close permanently amid doubts it could operate safely, 18 months after a small radiation leak was discovered.
The San Onofre plant near Los Angeles halted operations in January 2012 after radioactive water tubes were damaged.
Operator Southern California Edison has faced a series of regulatory inquiries.
San Onofre powered 1.4 million homes but regulators say they can supply sufficient electricity through the summer barring threats to other plants.
"[The plant] has served this region for over 40 years," Chief Executive Ted Craver of parent company Edison International said in a statement.
"But we have concluded that the continuing uncertainty about when or if [the plant] might return to service was not good for our customers, our investors, or the need to plan for our region's long-term electricity needs."
With the plant off-line, officials have warned the wildfires that regularly scorch Southern California during the dry summer months could cause power shortages.
Over the last eight months Southern California Edison had sought permission from the federal Nuclear Regulatory Commission (NRC) to restart one reactor and run it at reduced power for five months, in hopes of stopping the vibrations that had damaged the tubing.
California US Senator Barbara Boxer applauded the decision to close the plant permanently, saying it had a defective design and posed a danger to the eight million people who live within 50 miles (80.5km).