Profile: Sunnylands, 'Camp David of the US West Coast'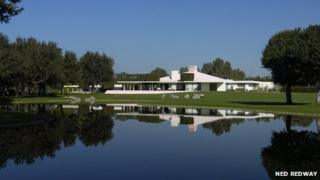 In the Coachella Valley of southern California, surrounded by desert and mountains, lies a luxury estate that aspires to be the "Camp David of the West Coast".
Sunnylands has played host to seven US presidents, royalty, Hollywood icons and world leaders since it was built in the mid-1960s as a winter home for the late publisher, philanthropist, art collector and former ambassador to the UK, Walter Annenberg, and his wife Leonore.
In 2001, the Annenbergs directed that their estate be made available to serve as a "sanctuary for generations of high-level national and world leaders seeking the privacy, peace, and 'the pause' needed for solving the most pressing national and international issues".
On Friday and Saturday, it will host the first meeting between President Barack Obama and his new Chinese counterpart, Xi Jinping.
They will review progress and challenges in the two countries' relations over the past four years and discuss ways to enhance co-operation, according to the White House.
'Statement roof'
The 200-acre Sunnylands estate, in Rancho Mirage, was designed by the renowned architect Quincy Jones and includes 11 lakes, a tennis court, and a nine-hole golf course.
The 25,000-sq ft mid-century modern home exhibits many of the design features for which Jones was known, including soaring ceilings, clean lines and a pink pyramidal "statement roof". There are 23 bedrooms for guests, including the Annenberg suite, reserved for visiting heads of state.
From 1966 to 2009, when the Annenbergs still lived there, the estate was a popular retreat for US politicians and celebrities spending time at the nearby resort town of Palm Springs.
Ronald Reagan celebrated New Year's Eve at Sunnylands 18 times, while Richard Nixon retreated there after his resignation in 1974, writing in the guestbook: "When you're down, you find out who your real friends are."
Queen Elizabeth II was told by Mrs Annenberg that she would "see how ordinary Americans live" when she spent time there in 1983, and it was the location of Frank Sinatra's fourth marriage.
Over time, the estate also came to be used for high-level government meetings. President Reagan signed a major trade agreement with Canada at Sunnylands in 1988, and President George H W Bush held a State Dinner there for Japanese Prime Minister Toshiki Kaifu in 1990.
In 2002, under the terms of a $300m trust created by the Annenbergs, the Sunnylands estate was opened as a retreat for world leaders and venue for high-level summits.
In March 2012, Sunnylands was for the first time opened to the public. A 17,000-sq ft visitor centre was built to accommodate those wanting to know more about the Annenbergs and their philanthropy, and tour the famous house and gardens.