New York Post sued for Boston blasts 'Bag Men' front page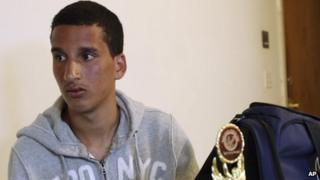 Two Massachusetts residents have sued the New York Post, accusing the tabloid of identifying them as suspects in the Boston marathon bombing.
The newspaper published a front-page photo of Salaheddin Barhoum, 16, and Yassine Zaimi, 24, with the headline "Bag Men" three days after the blasts.
The plaintiffs say the story exposed them to "scorn, hatred, ridicule, or contempt".
But the Rupert Murdoch-owned tabloid is standing by its coverage.
The lawsuit - which asks for an unspecified amount of money in compensation - accuses the newspaper of libel, privacy invasion and negligent infliction of emotional distress.
'Dizzy and nauseous'
"The plaintiffs were not suspects and were not being sought by law enforcement," the lawsuit says.
"The Post had no basis whatsoever to suggest that they were, especially in light of a warning on Wednesday to news media, by federal authorities, to exercise caution in reporting about this very matter."
Mr Barhoum and Mr Zaimi were among spectators near the finish line of the marathon on 15 April.
They said they left the area about two hours before two bombs detonated, killing three people and wounding more than 260.
After the blasts, authorities appealed to witnesses to submit their photos to help the investigation.
Shortly before the New York Post story appeared, the plaintiffs say they saw their names appearing on the internet in connection with the attacks.
They said they both went to local police stations to voluntarily answer any questions, but were told on 18 April they were not considered suspects.
On the same day the New York Post published its story with their images.
According to the lawsuit, Mr Barhoum was not aware of the newspaper story until a reporter showed it to him on his way back from school athletics training.
He "became terrified, began to shake and sweat, and felt dizzy and nauseous" when he saw it, the lawsuit says.
The case also says both plaintiffs were recognised by strangers because of the story.
Amid criticism at the time, the newspaper's editor stood by the article, saying it had not identified the plaintiffs as suspects.
On Thursday, a spokeswoman for the tabloid referred questions about the legal action to the editor's previous comments.
Hours after the New York Post edition was published, authorities identified two ethnic Chechen brothers as suspects.
Tamerlan Tsarnaev was killed on 19 April during the police manhunt. His brother, Dzhokhar, is in US custody.