Chambliss: 'Hormones' a factor in military sex assault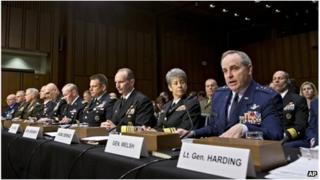 A US Republican senator has been criticised for telling a congressional hearing military sex assault is partly down to "hormone levels".
Georgia Senator Saxby Chambliss made the remark at a panel on the issue, attended by military top brass.
Debbie Wasserman Schultz, chairwoman of the Democratic National Committee, called on him to apologise.
It comes after a wave of sex assault cases and Pentagon data showing a rise in cases, from groping to rape.
"The young folks that are coming in to each of your services are anywhere from 17 to 22 or 23," Sen Chambliss told military commanders at Tuesday's hearing.
"Gee whiz, that's the level, the hormone level created by nature sets in place the possibility for these types of things to occur. So we've got to be very careful in how we address it on our side."
'Not about sex'
The senator added: "But guys, we're not doing our job. You're not doing yours and we're not doing ours with the rates that we are seeing on sexual assaults."
Senator Claire McCaskill, who has previously worked as a prosecutor on sex crimes, told the hearing "this isn't about sex".
"My years of experience in this area tell me they are committing crimes of domination and violence," the Missouri Democrat said.
After the hearing, Ms Wasserman Schultz took aim at Sen Chambliss.
"I think he should think about whether if, God forbid, a sexual assault happens to a daughter of his, would he think it's OK for a senator to just chalk the assault up to raging hormones," she told the MSNBC news channel.
Sen Chambliss' remarks came as other members of the Senate armed services committee expressed concern over the situation.
Senator John McCain said he could not "overstate my disgust and disappointment" over reports of sexual misconduct.
The Senate armed services committee is currently examining seven legislative proposals aimed at curbing the problem of sexual assault in the military.
One plan, put forward by New York Democrat Kirsten Gillibrand, calls for external special prosecutors to deal with military sexual assault cases, instead of continuing to let military commanders oversee the investigations.
But military commanders told Tuesday's hearing this would not be the right approach.
Some military leaders support a proposal from Defence Secretary Chuck Hagel that would stop commanders from overturning a military sexual assault verdict.
In recent weeks two military officers charged with curbing sexual assault in their ranks have been arrested for alleged abuse or harassment.
The Air Force has also been hit with allegations from dozens of female and male recruits that they were sexually harassed or raped by their instructors at Lackland Air Force Base in Texas.
Meanwhile, a Pentagon report released in May said 26,000 military personnel may have been sexually assaulted in 2012.
It said the number of reported incidents rose 6% to 3,374 in 2012, but that thousands more victims were unwilling to come forward.