Los Angeles air pollution drops after tailpipe laws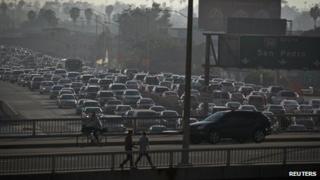 Los Angeles air pollution - and its infamous eye sting - have declined due to California's strict vehicle emission controls, scientists have said.
Despite a three-fold rise in the number of vehicles on southern California roads since 1960, air pollution there has decreased, a study found.
That includes peroxyacetyl nitrate, known to irritate the eyes, the US government study found.
The study "confirms" vehicle regulations worked, its author said.
"LA's air has lost a lot of its 'sting,'" said lead author Ilana Pollack of the National Oceanic and Atmospheric Association's research centre at the University of Colorado Boulder.
She said the study "confirms that California's policies to control emissions have worked as intended".
'Better' air
In addition, ozone pollution has improved, although Los Angeles remains the worst city in America for ozone pollution, according to the American Lung Association.
The researchers compared atmospheric data collected since 1960 with new findings from a research aircraft mission in 2010 to devise a long-term model of change in the region's atmosphere.
Using this data, they tracked the decline in "precursor" ingredients that form air pollution - volatile organic compounds and nitrogen oxides.
California's laws regulate the amount of emissions that cars sold and driven in the state can produce.
While pollution has decreased since 1960, scientists say vehicles are still the "dominant" source of emissions in Los Angeles.
"To most people the big deal is that things have got a lot better," Ms Pollack said. "But as scientists we want to know how they have got better."
They will publish their findings in the Journal of Geophysical Research: Atmospheres.