Afghan attacks soldier Robert Bales to plead guilty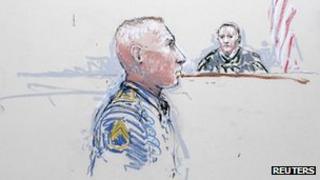 A US soldier accused of killing 16 Afghan civilians in two rampages last year will plead guilty to avoid the death penalty, his lawyers say.
Staff Sgt Robert Bales will make the plea in a hearing on 5 June.
He left a US outpost in Kandahar province in the early hours of 11 March 2012, attacking two villages nearby. Most victims were women and children.
Family members of those killed have told the BBC they were outraged he might not die.
"We will not be satisfied unless he is executed," Haji Abdul Baqi, who had some cousins killed and injured in the attack, told BBC Afghan.
"If they don't execute him, they are showing their power. He martyred 16 of our people, but they are not executing the one person who did all that. Would they forgive us if we killed 16 Americans?
"We have informed them [the Americans] that we are not taking part in this case because [they] are more powerful than us and a weak person cannot sue a powerful one."
'Broken'
Sgt Bales's lawyers say he is contrite about the killings, but would not discuss the details of what the soldier plans to say to the judge at the hearing.
Lawyer John Henry Browne described Sgt Bales as "crazed" and "broken" on the night of the attack.
The judge, as well as the commander of Joint Base Lewis-McChord, where Sgt Bales is being tried, must approve any plea deal. A military jury would then decide if a life prison term for Sgt Bales would include the possibility of parole.
At the time of the attack, Bales was serving his fourth tour of duty and had been drinking alcohol and snorting Valium.
In addition to the 16 murdered, six Afghans were injured.
Seventeen victims were women or children, and many of them were shot in the head. Some of the bodies were piled up and burnt.
Sgt Bales' defence team said they had determined the soldier would not be able to prove any claim of insanity or diminished capacity.
While prosecutors originally said they would seek the death penalty, no US service member has been executed in more than 50 years.