Canadian man in C$31m double lottery prize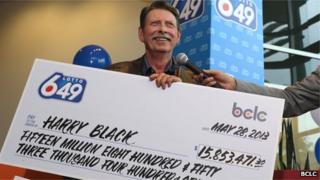 A man has won a 31m Canadian dollar ($30m; £19m) lottery jackpot after buying two identical tickets.
Harry Black, 66, said he had played the same numbers for 53 years.
The C$63m jackpot was split among four tickets, two of which were his. Had he only purchased one, the prize would have been split three ways and his winnings would have been C$10m less.
The British Columbia man had kept the tickets since the 13 April drawing while making plans for the money.
He works in the film industry, and says he will not retire but will use his money to go on vacation, build a house, invest, and share with family and friends.
The other winners were in Vancouver and Calgary, Alberta.
"This is a wonderful surprise to all of us," Kevin Gass of the British Columbia Lottery Corporation said.
"While it's not known how many people buy identical tickets for a draw, it is the first time in the company's recollection that we've had this unique sort of win."