US honours war dead on Memorial Day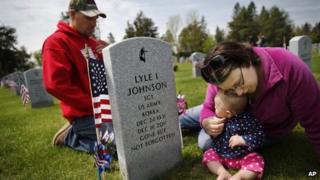 Americans have been marking Memorial Day, which commemorates US soldiers fallen in the Civil War and beyond.
President Barack Obama laid a wreath at the Tomb of the Unknowns at Arlington National Cemetery near Washington DC.
Mr Obama said America must remember its citizens are still serving, even though the war in Iraq is over and troops are withdrawing from Afghanistan.
Americans observe the day - which launches the summer season - with parades, family visits and barbecues.
As many as 35 million Americans were expected to travel this weekend, according to AAA, a motorists' association.
'Please don't forget'
Soldiers returning from war had written to the president to express their concerns that public awareness of the military's current operations were "fading from memory", Mr Obama said on Monday.
But with more than 60,000 American troops still serving in Afghanistan, Mr Obama said the country must remember the US is still fighting.
"Even as we turn the page on a decade of conflict, even as we look forward, let us never forget, as we gather here today, that our nation is still at war," Mr Obama told veterans and military families gathered at the cemetery in Arlington, Virginia.
"Today most Americans are not directly touched by war," he added.
"As a consequence, not all Americans may always see or fully grasp the depth of sacrifice, the profound costs that are made in our name."
Mr Obama paid special tribute to military veterans who served in Korea, to mark 60 years since the end of the war there.
All dead honoured
The US observes a national minute of silence to honour the war dead at 15:00 local time (on the east coast, 19:00 GMT).
US government offices and most private businesses, the stock markets and banks are all closed on Monday.
Memorial Day was established soon after the US Civil War, the conflict that raged 1861-65 between the southern slave-holding states and the northern free states.
As many as 750,000 men died in the conflict, equivalent in proportion to 7.5 million dead in 2012.
The war ended in 1865 with the surrender of the southern, or Confederate forces, to the Union army; slavery was officially abolished by constitutional amendment that year.
Since its founding in 1866, the Memorial Day remembrance has come to honour the US dead in all wars, from its war of independence from Britain through Afghanistan.