Angelina Jolie's aunt dies of breast cancer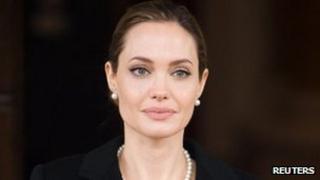 Angelina Jolie's aunt has died of breast cancer, nearly two weeks after the Hollywood star said she had had a double mastectomy to avoid such a fate.
Debbie Martin passed away at the Palomar Medical Centre in Escondido on Sunday, aged 61, the hospital said.
Mrs Martin was the sister of Jolie's mother Marcheline Bertrand, who died of ovarian cancer in 2007, aged 56.
Her husband, Ron Martin, said the sisters had both had the same mutated BRCA1 gene, which Jolie inherited.
"Angelina has been in touch throughout the week and her brother Jamie has been with us, giving his support day by day," he told E! News.
"They both loved Debbie very much and although Angie is not able to come right now, she has sent her love and support, which was very nice."
Mr Martin also praised the actress for electing to have a double mastectomy, telling the Associated Press: "Had we known, we certainly would have done exactly what Angelina did."
On 14 May, the 37-year-old wrote in the New York Times that she had had the operation after doctors estimated she had an 87% risk of breast cancer and a 50% risk of ovarian cancer.
"I decided to be proactive and to minimise the risk as much I could," she explained, adding that her chances of developing breast cancer had now dropped to less than 5%.
The BRCA1 gene is present in everyone but only mutates in one in 1,000 people. Anyone with the mutation has a 50-80% chance of developing breast cancer.