Superman comic 'found in wall' could fetch record price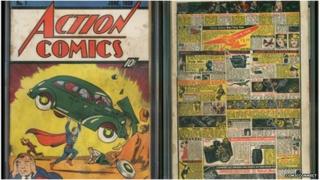 A 1938 comic book featuring the debut of Superman that was discovered in the wall of an abandoned house could set a new auction record, a dealer has said.
Action Comics #1, currently bid at $137,000 (£88,000), had been packed in the insulation of a house in Minnesota.
But David Gonzales, the home remodeler who discovered it, said its back cover was subsequently torn in an argument with his wife's relatives.
Dealer Vincent Zurzolo told the BBC the damage decreased its value by $75,000.
'Virgin copy'
The comic has already attracted 35 bids and was likely to exceed its estimated value of $150,000, said Mr Zurzolo, chief operating officer of ComicConnect.com, which is listing the comic.
"We call this one 'the grail in the wall'," he said. "It has been in that house for 75 years. This is a virgin copy."
It could even set a record price for comics in its condition grade of 1.5 out of 10 because collectors enjoy the unusual story of its discovery, Mr Zurzolo added.
"Of course people really love the collectible itself, but often it's the story behind it that gets them even more," he said
The most expensive Action #1 comic ever sold had a grade of nine and fetched more than $2.1m.
Mr Gonzales purchased an abandoned house that he planned to renovate and live in with his four children, Mr Zurzolo said.
While tearing down a wall, Mr Gonzales found newspapers from the 1930s used as insulation. Then he came across the comic.
Bidding continues on ComicConnect.com until 11 June.