Obama tells Navy class culture of sex assault must end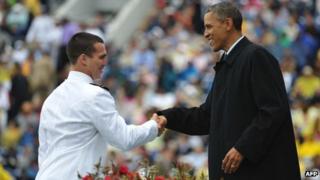 President Barack Obama has told US Navy graduates they must help end a culture of sexual assault in the military.
He told 841 men and 206 women at the Naval Academy commissioning ceremony in Annapolis, Maryland, the effects of misconduct "ripple far and wide".
On Thursday, lawmakers introduced a bill to impose harsher penalties for sexual assault in the military.
A Pentagon report released this month said 26,000 military personnel may have been sexually assaulted in 2012.
It said the number of reported incidents rose 6% to 3,374 in 2012, but that thousands of victims were unwilling to come forward.
'Vicious crime'
Mr Obama told the graduates that misconduct by a small group had the potential to damage large institutions - like the government and Wall Street's financial industry.
"Even in our military we've seen how the misconduct of some can have effects that ripple far and wide," the president said.
"Those who commit sexual assault are not only committing a crime, they threaten the trust and discipline that makes our military strong," he added.
"That's why we have to be determined to stop these crimes because they've got no place in the greatest military on earth."
The president's comments come two days after a sergeant was accused of filming women in the showers at the US military academy at West Point, the latest in a series of such incidents.
Hours before the accusations came to light, military leaders had told a Senate committee they would make fighting sexual assault in their ranks a top priority.
"This is a crime. It is a violent and vicious crime and the military needs to treat it as such," said Ohio congressman Mike Turner, who co-sponsored new legislation to address the issue.
The bill introduced on Thursday would impose dishonourable discharge as a minimum penalty for anyone found guilty of sexual assault or attempted assault.
It would also make such convictions irreversible.
Also, the Senate Armed Services Committee has said it will hold a full-committee meeting on 4 June to hear testimony about the issue from military leaders, including Chairman of the Joint Chiefs of Staff General Martin Dempsey.
Last week, Mr Obama convened a meeting with military top brass, to discuss the problem.
In the same week an Army sergeant in Fort Hood, Texas, assigned to prevent sexual misconduct was under investigation for alleged abusive sexual contact.
The investigation emerged the week after an Air Force commander with similar responsibilities was arrested for allegedly groping a woman in a car park in Arlington, Virginia.
The Air Force has also been hit with allegations from dozens of female and male recruits that they were sexually harassed or raped by their instructors at Lackland Air Force Base in Texas.