Toronto Mayor Ford fires aide Towhey after drug claims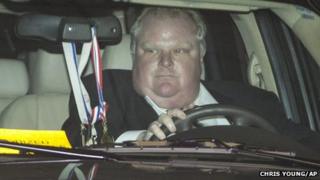 Toronto Mayor Rob Ford has sacked his chief of staff as he fights allegations that he has been caught smoking crack cocaine on camera.
No reason was given for Mark Towhey's dismissal on Thursday.
Two Toronto Star journalists have reported they were shown mobile phone footage in which the mayor appeared to smoke the drug.
Mr Ford has dismissed the allegations as "ridiculous", accusing the newspaper of "going after me".
Reports in Canadian media say the mayor's executive committee has started to make contingency plans to run the city in his absence.
'Deafening'silence
The video has not been released publicly and has not been verified. The Toronto Star newspaper and the gossip website Gawker report that it was taken by men who claim they sold crack cocaine to the mayor.
Gawker has launched a crowd-funding campaign to raise $200,000 to buy the video, though now says it has lost contact with the people in possession of the footage.
Mr Towhey was escorted out of Toronto's City Hall on Thursday, saying only that he did not resign. "My advice is for him and him only," he told reporters.
Meanwhile Mayor Ford's political allies plan to release a letter urging him to address the matter of the alleged video.
Deputy Mayor Doug Holyday said on Friday that some members of the mayor's executive committee were very concerned.
Councillor Gary Crawford said he was "not necessarily comfortable'' with Mr Ford leading the city.
On Wednesday, the mayor was removed as volunteer head coach of a high school football team, the Don Bosco Eagles, by the Toronto Catholic District School Board. No explanation was given.
Both allies and foes of the mayor have called on him to address the allegations.
Right-leaning paper the Toronto Sun, normally supportive of Mr Ford's agenda, wrote in an editorial that if the mayor could not appear in public to say the video was a fraud, then he should step aside and seek medical help.
The paper described the mayor's silence as "deafening".