Nasa to lease Cape Canaveral shuttle launch pad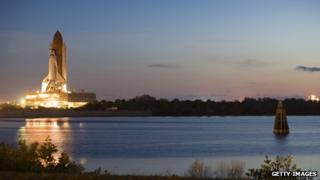 Nasa is looking for commercial operators to lease a historic launch pad in Florida used for the first Moon missions and by the shuttles.
Launch Complex 39A at the Kennedy Space Center has been unused since the Atlantis orbiter retired in 2011.
At least two privately owned space exploration companies are expected to bid for the contract.
The facility is one of two launch pads built in the 1960s as part of the Apollo Moon programme.
It has supported more than 90 launches since November 1967.
But after the end of Nasa's space shuttle programme two years ago, Complex 39A and many other facilities became redundant.
The US space agency said some 150 facilities at the Florida spaceport had been demolished or transferred to commercial operators, Reuters news agency reports.
"We remain committed to right-sizing our portfolio by reducing the number of facilities that are underused, duplicative or not required to support the Space Launch System and Orion," the space centre's director, Bob Cabana, said in a statement.
The Space Launch System and Orion is Nasa's next-generation deep space mission, designed to carry astronauts to destinations past the International Space Station (ISS).
"Launch Complex 39A is not required to support our asteroid retrieval mission or our eventual missions to Mars," Mr Cabana said.
"It's in the agency's and our nation's best interest in meeting our commitment and direction to enable commercial space operations and allow the aerospace industry to operate and maintain the pad and related facilities."
Nasa aims to lease the facility for five years or longer by October.
Privately owned Space Exploration Technologies (SpaceX) is reportedly among the companies that have expressed interest in the contract. The company already leases a launch pad at the nearby US Air Force Station.
It is developing crewed spacecraft in an attempt to launch Nasa astronauts to the orbiting ISS.