Moore tornado: Thunderstorms hamper recovery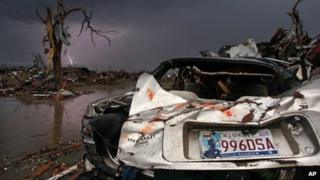 Cleanup efforts in an Oklahoma community smashed by a huge tornado have been hampered by thunderstorms, as the first victim's funeral was held.
Antonia Candelaria, nine, who died as the twister hit her school, killing six classmates, was laid to rest.
Amid heavy rain and hail, a flash flood alert was issued for the Oklahoma City suburb of Moore, where 24 people died, including 10 children.
Monday's storm is estimated to have wreaked over $2bn (£1.3bn) in damage.
The recovery effort is now beginning to accelerate after all of the missing people were accounted for.
Children 'suffocated'
Residents have been picking through piles of debris where their homes once stood, after being formally allowed on Wednesday afternoon back into the area that was battered by the top-of-the-scale tornado.
Whole neighbourhoods in Moore, an Oklahoma City suburb of 56,000 people, were flattened by the twister, which packed winds of at least 200mph (320km/h).
Officials estimate 13,000 homes were damaged or destroyed and 33,000 people affected.
Moore's fire chief, Gary Bird, said that a number of residents had been injured while sifting through the wreckage of their homes.
"Now we are getting numerous calls for things such as gas leaks, electrical shocks, carbon monoxide leaks, nails being stepped on, that kind of thing," he told the Tulsa World newspaper.
Despite harsh storms, weather officials said no new tornadoes were expected on Thursday.
Among the destroyed buildings in the city are Moore Medical Center and two primary schools.
Antonia Candelaria was among six students who suffocated after being buried under a mass of bricks, steel and other materials as the Plaza Towers Elementary School collapsed.
A seventh Plaza Towers student, a seven-year-old boy, was killed instantly as an object fell on the back of his neck.
An obituary in the Oklahoman newspaper said Antonia was especially talented in music and art, and had recently auditioned to sing in the school's talent show.
Parents, teachers and children who survived gathered at area schools on Thursday as the district marked the formal end of the school year.
During the tornado, 22 people hid in the bank vault of the Tinker Federal Credit Union as the rest of the building was destroyed around them.
"It was crowded," Jan Davis, an employee, told CNN, "but if there were more people we would have crowded them right in."
On Wednesday, Moore Mayor Glenn Lewis said he would propose an ordinance in the next few days to require all new homes to have storm shelters.
Federal grants are already available to help residents subsidise the costs of safe rooms and shelters.
But Mr Lewis said he believes is it is necessary to mandate such structures in building work.
Some Moore residents were already vowing to rebuild - with storm shelters.
"That is the first thing that will be going into the design of the house," Shayne Patteson told the Associated Press news agency as he looked through the remains of his three-bedroom home.
President Barack Obama is scheduled to visit Moore on Sunday.