US 'faith healers' charged over second baby's death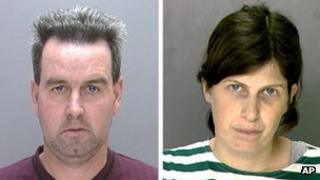 A Philadelphia couple said to reject medicine in favour of faith healing have been charged with the murder of their infant son.
Herbert and Catherine Schaible withheld medical care from the seven-month-old boy, who died in April of pneumonia and dehydration, prosecutors said.
Four years ago, another son died under similar circumstances.
After the 2009 death of Kent, two, the couple were ordered to seek medical care if their children fell ill.
They were convicted of involuntary manslaughter and child endangerment in Kent's death.
'How many must die?'
Like Brandon, Kent died from bacterial pneumonia. His parents had prayed for him but did not call a doctor.
The couple told police after Brandon's death they did not seek medical help because they believed in God's power to heal, the Philadelphia Inquirer newspaper reported.
Prosecutors in Philadelphia said the couple were entitled to their own religious beliefs - until their children's lives were in danger.
"How many kids have to die before it becomes extreme indifference to human life?" said prosecutor Ed McCann.
"They killed one kid already."
But defence lawyers characterised the couple as loving parents who did not want their son to die.
The couple are members of the First Century Gospel Church, which shuns measures such as toothpaste and seatbelts, the Philadelphia Inquirer newspaper reported.
The couple face seven to 14 years in prison if they are found guilty, prosecutors said.
The couple have seven surviving children under the age of 18, who were placed in foster care last month.