Los Angeles elects first Jewish mayor, Eric Garcetti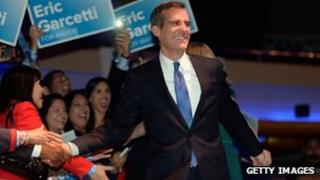 Los Angeles has elected its first Jewish mayor, Eric Garcetti, a three-term city councilman.
Mr Garcetti received 54% of the vote to City Controller Wendy Greuel's 46%.
The 42-year-old takes office in America's second-most populous city in July, when he will also become its second-consecutive Latino mayor.
The campaign was the most expensive in city history at $30m (£19m) overall, but only about one in four Los Angelenos voted on Tuesday.
A tight election on 5 March had resulted in a run-off between the two city officials.
Jobs promise
"We have sent a message tonight," Mr Garcetti said early on Wednesday to supporters.
"And that message is that LA is ready to put the recession in the rear-view mirror and to become the city of opportunity that I grew up in once again."
He tweeted that he was honoured to lead the city.
The city councilman promised voters during his campaign that he would increase jobs and patch up the city's battered streets and pavements.
The city faces growing budget problems with pension healthcare costs for municipal workers expected to rise.
Mr Garcetti also portrayed Ms Greuel as a pawn of powerful labour unions during the campaign.
"A lot of people were telling me I needed to throw working people under the bus to win this race," said Ms Greuel late on Tuesday. "That was never going to happen on my watch."
In a statement, current Mayor Antonio Villaraigosa said Mr Garcetti would "guide our city into its bright future. I know I am leaving Los Angeles in good hands."
The mayor-elect is also a Spanish speaker with Mexican roots like Mr Villaraigosa, but unlike the current mayor, Mr Garcetti grew up in an upmarket area of the city.
Mr Garcetti is the son of the former district attorney general who prosecuted football legend OJ Simpson on murder charges.