Boston bomb investigators kill Florida man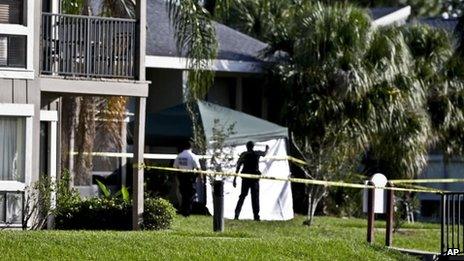 A Chechen immigrant living in Florida was shot and killed during a violent confrontation with Boston bombing investigators, officials have said.
The shooting took place early on Wednesday in Orlando as officials questioned Ibragim Todashev, 27.
An FBI agent and two Massachusetts State police officers were present.
US media report Todashev admitted a role in a triple murder near Boston in September 2011 and implicated bombing suspect Tamerlan Tsarnaev in the crime.
In that unsolved incident, three men were found dead in a rented property on a quiet, residential street in the town of Waltham.
The men were reportedly found with their throats slashed and marijuana sprinkled over their bodies.
But officials in Middlesex County, Massachusetts have refused to comment on the reports.
No evidence has emerged linking Todashev to the Boston Marathon bombings.
The FBI said an agent was taken to hospital with non-life threatening injuries, and an agency team has been dispatched to review the shooting, standard procedure in such cases.
Police blocked off the apartment complex where Todashev was shot.
US media reported that Todashev had known Tamerlan Tsarnaev, the ethnic Chechen Boston bombing suspect killed in a shootout with police days after last month's deadly marathon blasts.
The Boston Marathon attack killed three people and injured 264 others on 15 April.
Tsarnaev's brother, Dzhokhar Tsarnaev, 19, is being held in a prison hospital after being shot before capture. He faces the death penalty if convicted.
Two anonymous law enforcement officials told the Associated Press Todashev was shot after attacking the FBI agent with a knife.
In a statement, the FBI said the agent and "two Massachusetts State Police troopers and other law enforcement personnel" had been interviewing Todashev when "a violent confrontation was initiated by the individual".
"During the confrontation, the individual was killed and the agent sustained non-life threatening injuries."
The Associated Press news agency meanwhile reports that Todashev was arrested earlier this month on suspicion of assault, after a dispute over a parking spot at an Orlando shopping centre.
Todashev put a man in hospital with facial injuries during the fracas, according to a report from the Orange County Sheriff's Office.
Public records show that Todashev - who was reportedly a mixed-martial arts fighter - lived in Watertown, Massachusetts, just outside Boston, last year.