Boston suspect Dzhokhar Tsarnaev 'left note in boat'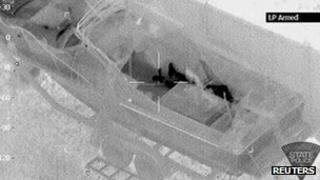 The Boston marathon bombing suspect wrote a message in a boat where he hid, describing victims of the attack as "collateral damage", US media report.
In the note, Dzhokhar Tsarnaev also reportedly scribbled that his brother was a martyr, adding: "When you attack one Muslim, you attack all Muslims."
The bombs were retribution for the US wars in Iraq and Afghanistan, the note said, sources told US media.
Mr Tsarnaev was captured in the boat during the manhunt after the bombs.
The part of the vessel on which the 19-year-old wrote the message may have to be cut from the hull and presented in court as evidence should he go to trial, an anonymous source told the New York Times.
First reported by CBS News, the content of the note sounds similar to what Mr Tsarnaev reportedly told officials as he was interrogated at a hospital.
He is in custody on terrorism charges and may face the death penalty if convicted.
The suspect was found wounded inside the boat after the manhunt in Watertown, Massachusetts.
His brother, Tamerlan Tsarnaev, died in a shootout with police the night before.
The blasts left three people dead and 264 injured at the finish line of the city's marathon on 15 April.