Cleveland kidnap accused Castro to plead innocent - lawyers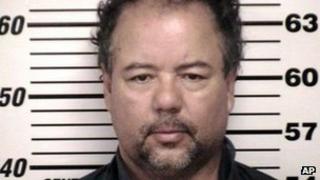 The US man accused of imprisoning three women for a decade in his house in Ohio will plead not guilty to all charges, his lawyers say.
Ariel Castro, aged 52, is charged with four counts of kidnapping and three counts of rape.
The women were abducted at different times and held in Mr Castro's house in Cleveland. One of them escaped earlier this month and raised the alarm.
"He's not a monster and he shouldn't be demonised," said lawyer Jaye Schlachet.
Speaking to the AFP news agency, he added that details of Mr Castro's innocence "will be disclosed as the case progresses".
Craig Weintraub, another defence lawyer, told WKYC-TV that his client "loves dearly'' the child he fathered with 27-year-old Amanda Berry - one of the three alleged kidnap victims.
The other women freed from Mr Castro's house were Gina DeJesus, 23, and Michelle Knight, 32.
The defence lawyers said they had spent four hours speaking to Mr Castro in prison.
Prosecutors in Ohio have said they also plan to seek aggravated murder charges that could carry the death penalty.
The charges relate to alleged forced miscarriages suffered by one victim.
The prosecutors are still preparing their case against Mr Castro and there has yet to be an arraignment hearing.
'Sexual predator'
Mr Castro made his first court appearance in Cleveland on 9 May without entering a plea.
County prosecutor Brian Murphy told that hearing: "The charges against Mr Castro are based on premeditated, deliberate, depraved decisions to snatch three young ladies from Cleveland West Side streets to be used in whatever self-gratifying, self-serving way he saw fit."
He is charged with four counts of kidnapping, covering the three initial abduction victims and Jocelyn, Ms Berry's six-year-old daughter, who was apparently conceived and born in captivity.
The former school bus driver also faces three counts of rape, one against each woman.
Bail was set at $8m (£5.1m), meaning in effect that he has remained in custody ever since. He is currently on suicide watch and is being kept in isolation.
According to CBS News, Mr Castro confessed to his crimes in a long, hand-written letter found in the house, which investigators believe may have been intended as a suicide note.
In the 2004-dated letter he said he had been raped as a child by his uncle and was also abused by his parents, a law enforcement source told the US network.
Mr Castro reportedly called himself a "sexual predator", but he also asked to donate all his money to his victims after his death.
His two brothers, Pedro and Onil, also appeared in court on unrelated charges. They had been arrested, but police found no evidence linking them to the crime.
Pedro Castro was fined $100 for public drinking, while two minor counts against Onil Castro were dropped.
Ms Berry, whose disappearance in 2003 the day before her 17th birthday was widely publicised in the local media, escaped from Mr Castro's house by kicking the door and screaming for help while her alleged captor was out. A neighbour helped her to escape.
The other women were freed soon afterwards. They were all abducted after accepting rides from Mr Castro, according to a police report leaked to the media.