Cameron and Obama's endless Syria conundrum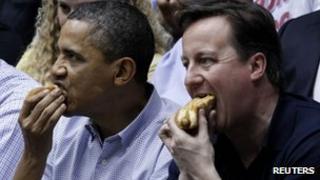 David Cameron's meeting with President Obama at the White House is likely to be dominated by Syria. Don't hold your breath for any great new announcements.
The UK prime minister is in the US partly for a big meeting at the UN on global development and partly for an event with Prince Harry, also in New York.
So his meeting with the president is something added on, rather than the centrepiece of his trip. That means it will be strictly business - no playing of ping pong or sampling of BBQ. As well as Syria, they will talk about Iran, transatlantic trade (the proposed deal with the EU is now known in the trade as "tee tip") and probably North Korea.
Doubtless the president will want to know the latest about the prime minister's proposed referendum on membership of the European Union and his troublesome colleagues' willingness to turn a political face-saver into a real choice. While some in Britain dream of leaving the EU and strengthening the transatlantic relationship it its place, America values what the president calls the "essential relationship" in part as a bridge to Europe. If it turns into a bridge to nowhere, it will trouble them.
But Syria is the hard case. Both Europe and the US are slowly inching towards arming the rebels. But that commonplace phrase disguises the fact that the "arms" will be well short of anything the rebels actually want to finish this protracted business.
For months now, the noises from Western capitals have vacillated between the cry "Something must be done!" and the forlorn reply "But what?"
One rather lame answer is the idea of a peace conference dangled by Russia.
But there's not much diplomatic chatter about the proposal, which seems more like a passing thought than a hard plan. I get the impression that the US and Europe will go along with what they privately regard as a bit of a charade only because they have no better ideas.
Which brings us back to "arming the rebels" and allied concepts like a no-fly zone.
Enthusiasts insist it isn't that difficult - find the right sort of rebels and give them the weapons they need. But as one insider put it to me: "What if we give the minority we trust the good stuff and five miles down the road they run into a road block and Islamist nutters take it off them? How does that help?"
No-one has any particularly good answers to this conundrum. We'll see today if the two leaders can come up with anything that squares the circle.