Tamerlan Tsarnaev's secret Virginia burial upsets locals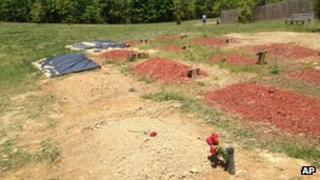 An Islamic community in the US state of Virginia is said to be in uproar after it emerged a Boston bombing suspect was buried at a nearby rural cemetery.
An imam said local Muslims were upset their loved ones would have to use the same graveyard as that where Tamerlan Tsarnaev was secretly laid to rest.
His body was interred on Thursday after protests at the Massachusetts funeral home where it was kept.
Officials fear the site might become a shrine for anti-US sympathisers.
The deceased 26-year-old and his younger brother Dzhokhar, 19, are suspected over the blasts that left three people dead and 264 injured at the finish line of the city's marathon on 15 April.
'Behind our backs'
Tsarnaev was interred at a small Islamic cemetery in a rural area just north of the state capital, Richmond.
His burial follows a long search for a community that would accept the body, after several states rejected his remains.
Imam Ammar Amonette, of the Islamic Center of Virginia, said the move made "no sense whatsoever".
"The whole Muslim community here is furious," he said. "Frankly, we are furious that we were never given any information. It was all done secretly behind our backs."
"Now everybody who's buried in that cemetery, their loved ones are going to have to go to that place."
County and state officials say they were not told of the burial in advance, although that is not required.
Floyd Thomas, chairman of the board of supervisors for Caroline County, told CNN that if any protocols had been flouted in the burial, "we would look into undoing what happened".
Martha Mullen, a private citizen of Richmond, is credited with having co-ordinated efforts behind the scenes to resolve the problem of where to bury Tsarnaev.
"It was an interfaith effort," she told the Associated Press. "Basically because Jesus says love your enemies."
Massachusetts police said on Thursday: "As a result of our public appeal for help, a courageous and compassionate individual came forward to provide the assistance needed to properly bury the deceased."
Preparations are believed to have been made by Ruslan Tsarni, the suspect's uncle, after Tsarnaev's widow, Katherine Russell, released the body to her in-laws.
Earlier, Mr Tsarni said the atrocity in Boston had brought shame to the entire Chechen community.
The Tsarnaevs come from a family of ethnic Chechens and had been living in the US for about a decade before the attacks.
Tamerlan Tsarnaev left the US last year for a long visit to Dagestan, a Russian republic bordering Chechnya. Islamist insurgents are active in the region.
Tsarnaev was killed on 19 April during a massive police manhunt. According to a death certificate released on Friday, Tsarnaev died after he was shot by police and run over and dragged by a vehicle.
Dzhokhar Tsarnaev was injured in the gunfight and is in US custody on federal terrorism charges.