One World Trade Center spire installed in New York City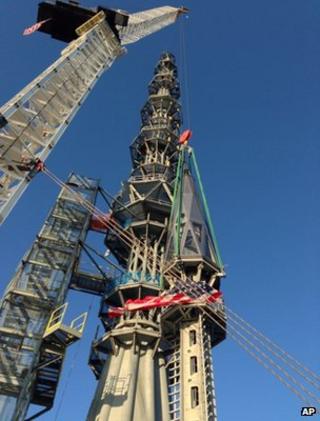 The spire has been installed atop New York's One World Trade Center, making the skyscraper the tallest building in the Western hemisphere.
The building in lower Manhattan, still being built, stands at the site of the 11 September 2001 attacks.
The tower stands at 1,776ft (541m), a reference to the year of America's independence, after building was slowed by bureaucratic and design delays.
Workers watched the event from a work platform at the top of the tower.
'Tribute to lives lost'
"It's a pretty awesome feeling," project manager Juan Estevez told the Associated Press news agency.
"It's a culmination of a tremendous amount of team work... rebuilding the New York City skyline once again."
New York Governor Andrew Cuomo said the installation of the spire was a proud moment for the city and state.
"This milestone at the World Trade Center site symbolises the resurgence and resilience of our state and our nation," Mr Cuomo said.
New Jersey Governor Chris Christie thanked the workers on the project.
"Today's achievement is a fitting tribute to the sacrifices made by so many brave and innocent souls nearly 12 years ago - including first responders... who lost their lives while heroically responding to the attacks on our nation," he continued.
On Friday morning the two pieces of the spire were lifted by a crane and fitted to the 16 pieces of the antenna already in place.
Ironworkers then screwed on 60 bolts at an elevation of 1,701ft in the air.
Below the tower is a memorial to the nearly 3,000 people killed when al-Qaeda militants flew jets into the World Trade Center's twin towers, causing their collapse.
A museum is also under construction.
When it is completed, the One World Trade Center will house 2.6 million sq-ft (241,000 sq-m) of commercial office space, as well as observation decks, restaurants and other public facilities.
The 408ft spire will serve as a broadcast antenna.