Pit bull terriers 'killed' Los Angeles jogger - police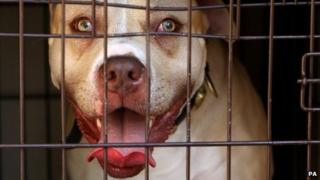 A 63-year-old woman has died after an attack by four pit bull terriers as she was jogging in Los Angeles County, police in California say.
The woman, who has not been identified, died from her wounds on the way to hospital on Thursday.
A woman in a car who saw the attack honked her horn to try to get the dogs to stop, Sheriff Lt John Corina said.
Police have warned residents to be on the lookout for the pit bulls, which remain on the loose.
Sheriff officials say they are using a helicopter to search for the four tan-coloured dogs in the rural community of Littlerock, about 40 miles (65km) northeast of the city of Los Angeles.
"When the first deputy on scene saw one dog still attacking the woman, he tried to chase the dog away," Lt Corina said.
"The dog ran off into the desert, then turned around and attacked the deputy, the deputy fired a round at the dog and tried to kill the dog, and the dog took off into the desert."
It is unclear whether the dogs had collars or owners.
A spokesman for the nearby city of Palmdale told AFP news agency he had never heard of an attack like the one on Thursday.
"In these areas, you might have a situation where people dump animals out in rural areas," said John Mlynar.
Residents say stray dogs are often seen roaming the area and have attacked people in the past.
"It's really scary... I really think I'm going to be getting a gun to protect myself," Littlerock resident Diane Huffman told KABC-TV.
The coroner's office is investigating the cause of the woman's death.