Cleveland kidnap: Dealing with media spotlight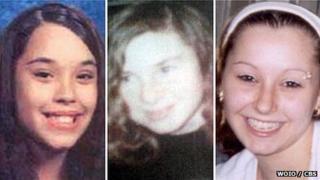 In late August and early September 2006, the atmosphere among much of the Austrian and foreign press in Vienna was tense and febrile.
Natascha Kampusch had just made her dramatic dash for freedom after eight years in captivity in a cellar in a suburban house just outside Vienna.
Photos of her being escorted to a police station were published. But her face remained covered in a blanket. A couple of days later, she released a written statement.
But the question for many of us in the media - and in the public - was "Will she speak?"
Compelling viewing
As it turned out, we didn't have to wait very long.
Two weeks after her escape, she gave a long interview to Austrian television. It was compelling viewing.
Since then she has rarely been out of the media spotlight, hosting a television series, writing a globally best-selling autobiography and approving a feature film about her story.
Natascha Kampusch has said talking about her experiences has had a therapeutic effect, but she has also spoken of the difficulties she has faced dealing with the intense public scrutiny of her affairs.
It was very different with the Amstetten incest case, which broke in May 2008.
The media storm over Josef Fritzl, who imprisoned his daughter Elisabeth in a cellar for 24 years and had seven children with her, was, if anything, even more intense that that surrounding Natascha Kampusch.
Paparazzi climbed trees around the clinic where Elisabeth and her six surviving children were first taken; journalists put in frantic bids for interviews.
But the family did not emerge into public view - either then or since.
It is understood Elisabeth and her children were given new identities.
With the exception of the British tabloid The Sun, no media outlet is believed to have published photos of them. How they are coping with the aftermath of their ordeal is a matter for speculation.
Learning to trust
So can these two diametrically opposed responses offer any guidance to the three women in Cleveland - Amanda Berry, Gina DeJesus and Michelle Knight - as they look to the future?
Austrian journalist Christoph Feurstein, who conducted the first television interview with Natascha Kampusch, described the experience as "feeling like a resurrection".
He says the "most important thing" is that the three women in Cleveland "now learn to trust again".
"They have been exploited for 10 years. So they have to learn to trust and they will need a lot of help. Experts say it will last another 10 years that they can go back to their normal life."
He says Natascha Kampusch is looking to the future.
"She is doing social work and she has always new plans and I think it's getting better and better. But the wounds will stay for life."
Adelheid Kastner, the Austrian court psychiatrist who examined Josef Fritzl and delivered expert testimony on him during his trial, says there are "too few cases to be able to make generalisations", on how to deal with the question of publicity.
Dr Kastner says she did not have direct contact with either Ms Kampusch or Elisabeth Fritzl and her children, but she says she understands that in both cases, the handling of the media "took place as they wanted it to."
"It is important to respect what the people affected want," she said. "You can't tell them how to handle their own story."
Protection from media
Dr Kastner says it is legitimate to seek media attention, but she said that can mean having to "live with other less positive consequences".
She says "media marketing" isn't necessarily "the reality they are looking for".
"This is not a question of victim protection," she said. "It's about protection from the media."
But when asked by the BBC if she had any advice for Amanda Berry, Gina DeJesus and Michelle Knight, Dr Kastner was firm.
"I have no advice. They should do what they want to do. They have been led by others for too long."