Burial wrangle for Boston suspect Tamerlan Tsarnaev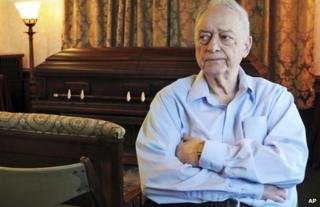 The search is on for a cemetery to bury Boston bombing suspect Tamerlan Tsarnaev as protesters picket the funeral home holding his body.
The director of the funeral home in Worcester, Massachusetts, likened the task to burying notorious mass murderers from recent US history.
Peter Stefan revealed Tsarnaev's death certificate, showing gunshots and blunt trauma as the causes of death.
Tsarnaev's surviving brother Dzhokhar is under arrest for the bombing.
The brothers are accused of planting two bombs near the finishing-line of the Boston Marathon on 15 April. Three people were killed and more than 260 injured in an attack which shocked America.
They are also suspected of later shooting dead one policeman and injuring another.
Dzhokhar, 19, was shot and injured during the police manhunt and remains in a prison hospital. He faces a possible death sentence if convicted.
Three of his college friends have been arrested on suspicion of obstructing police inquiries after the bomb attack.
'Bundy, McVeigh'
Relatives of ex-boxer Tamerlan Tsarnaev, 26, have been making arrangements to bury his body.
Mr Stefan received the body after it was released by the Massachusetts state medical examiner on Thursday.
Protesters had picketed a North Attleborough funeral home to which it was brought initially, after which Mr Stefan's business received it, in the face of a new demonstration.
"Everyone deserves a burial," Mr Stefan told Reuters news agency by telephone.
"It doesn't matter who it is. I can't pick and choose."
Speaking to AP news agency, Mr Stefan said: "My problem here is trying to find a gravesite. A lot of people don't want to do it. They don't want to be involved with this."
Arguing that everyone deserved a dignified burial, he added: "I keep bringing up the point of Lee Harvey Oswald, Timothy McVeigh or Ted Bundy. Somebody had to do those, too."
Wife declines
According to the death certificate, Tamerlan Tsarnaev died at 01:35 on 19 April from "gunshot wounds of torso and extremities" as well as blunt trauma to the head and torso.
After being hit in a shoot-out with police, he was reportedly run over on the ground by his younger brother as he escaped from the scene in a car.
No motive has yet been established for the bombing.
The family are ethnic Chechen Muslims from Russia who had been living in the US for about a decade, and Tamerlan was drawn to radical Islam.
His wife, Katherine Russell, declined to pick up his body from the medical examiner's office, allowing his relatives to claim the remains instead and arrange for a funeral.