First woman put on FBI's 'Most Wanted Terrorist' list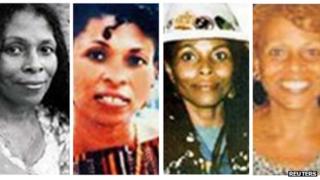 A fugitive convicted killer has become the first woman to be put on the FBI's list of "Most Wanted Terrorists".
Joanne Chesimard, a member of the Black Liberation Army also known as Assata Shakur, fled to Cuba in 1979 after escaping from a prison where she was serving a life sentence for murder.
She is listed as a domestic terrorist on the FBI website, although she is not considered to pose a new threat.
There are rewards totalling $2m (£1.3m) for information leading to her capture.
Chesimard is thought still to be living in Cuba, which does not have an extradition treaty with the US and is believed to be providing shelter to an estimated 70 people sought by the US authorities.
However, in April the Cuban authorities returned a Florida couple who were accused of kidnapping their two young sons after losing a custody battle with the boys' grandparents.
'Flaunts her freedom'
Chesimard was a leader of the Black Liberation Army, which the FBI described as a revolutionary extremist organisation responsible for killing more than a dozen US police officers in the 1970s and 1980s.
In 1973, she and two accomplices were stopped on the New Jersey Turnpike by two troopers from the New Jersey State Police. They then opened fire on the troopers, wounding one and killing the other "execution-style" at point-blank range, according to the FBI. One of Chesimard's accomplices died in the shootout; the other remains in jail.
In 1977, Chesimard was sentenced to life in prison after being found guilty of first degree murder, assault and battery of a police officer, assault with a dangerous weapon, assault with intent to kill, illegal possession of a weapon, and armed robbery.
However, two years later she broke out of the Clinton Correctional Facility in New Jersey with the help of armed members of the Black Liberation Army, They drove a van into the prison and then took her out.
Chesimard spent the next few years living in safe houses in the US before surfacing in Cuba in 1984, New Jersey State Police said.
"Of those responsible, one is dead, one is in jail, and one was broken out of jail and remains free in Cuba," said NJSP Superintendent Col Rick Fuentes. "Joanne Chesimard... flaunts her freedom in the face of this horrific crime".
Chesimard had been granted political asylum in Cuba, and given "the pulpit to preach and profess, stirring supporters and groups to mobilise against the US by any means necessary", Col Fuentes added.
The FBI is offering a reward of up to $1m (£640,000) for information leading to her capture, while the state of New Jersey is separately offering another $1m.
FBI agent Aaron Ford said that the agency would "pursue justice, no matter how long it takes".