FBI releases photos of Benghazi attack trio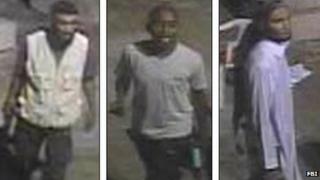 The FBI has released photos of three men it says were on the grounds of the US consulate in Benghazi, Libya, when it was attacked last year.
The agency says those in the images may be able to provide information, but it did not say if they were suspects.
The 11 September assault killed the US ambassador to Libya Chris Stevens and three other Americans.
Republicans in Congress continue to question the Obama administration about diplomatic security before the attack.
"The FBI is now asking Libyans and people around the world for additional information related to the attacks," the agency said in a statement in both English and Arabic.