US justice department fights 'morning-after' pill case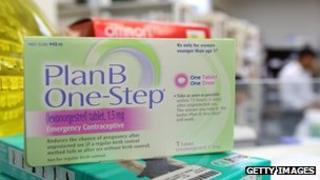 The US justice department has filed an appeal against a judge's ruling that requires the "morning-after" pill to be available to all ages.
The government says the judge exceeded his authority, and has asked for a suspension while the case is decided.
The New York judge said the decision to limit Plan B without a prescription to those 17 and older was "capricious".
The Food and Drug Administration (FDA) approved the drug on Tuesday over the counter for those aged 15 and above.
Reproductive rights groups welcomed the FDA's lowering of the age limit, but called for fuller access.
The deadline to comply with the judge's order is this Monday.
In 2011, the FDA said it had concluded the "morning after" pill could be safely used by girls of child-bearing age.
Health and Human Services Secretary Kathleen Sebelius was accused of bowing to social conservatives after she took the unprecedented step of over-ruling the agency.