NBA's Jason Collins hopes gay athletes will follow suit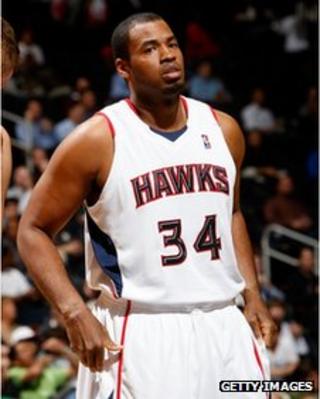 NBA player Jason Collins says it is "mind-boggling" to be the first male athlete in a major US sport to reveal he is gay, a day after coming out.
In an interview with ABC News, Collins said he hoped other professional athletes would now follow his lead.
The 7ft basketball player has been inundated with messages of support from across the world of sport and politics.
His ex-fiancee has said she was surprised when the NBA player told her last weekend he was gay.
Former WNBA player, Carolyn Moos, who dated Collins for seven years, told TMZ she never suspected he was gay.
"This is all hard to understand," she said, adding: "I care about [Jason] tremendously and only want the best for him.
"I want Jason to be happy for a lifetime and stay true to who he really is, inside and out."
'Years of misery'
Several male athletes have previously come out after retirement from sport in the US, including the former NBA star John Amaechi, the NFL's Esera Tuaolo and Major League Baseball's Billy Bean.
On Tuesday, US President Barack Obama said he had spoken with Collins, whom he called "a terrific young man".
"I told him I couldn't be prouder of him," he told reporters at the White House.
"Americans should be proud that this is just one more step in the ongoing recognition that we treat everybody fairly and that everybody's part of a family, and we judge people on the basis of their character and their performance and not their sexual orientation," he said.
Los Angeles Lakers guard Kobe Bryant and several of Collins's fellow NBA players also offered their backing.
"Don't suffocate who u r because of the ignorance of others," Bryant wrote on Twitter.
Speaking to ABC News' George Stephanopoulos in an exclusive interview on Monday night, Collins revealed: "That's kind of mind-boggling... I never set out to be the first."
"I'm ready to raise my hand but, you know, you still look around like, 'OK, come on guys.'
"It's time for someone else in the room to raise their hand and say: 'You know what? Yeah, so big deal. I can still play basketball. I can still help the team win, and that's what's most important,'" he added.
Broadcaster criticises Collins
In a Sports Illustrated article on Monday, Collins, who has most recently played for the Washington Wizards and the Boston Celtics, said: "I've endured years of misery and gone to enormous lengths to live a lie. I was certain that my world would fall apart if anyone knew."
Collins has played 11 seasons in the NBA with six teams and is currently a free agent.
He explained that in 2012 he had changed his uniform number to 98 - a number with significance for the gay community in the US - as a gesture of solidarity.
On Tuesday, a spokesman for the US sport broadcaster ESPN said the network regretted comments about Collins by basketball analyst Chris Broussard.
Broussard had said on-air he did not believe that "you can live an openly homosexual lifestyle" and be a Christian.
Collins had written in the article that he took "the teachings of Jesus seriously".