Boston Marathon bombing suspect moved to prison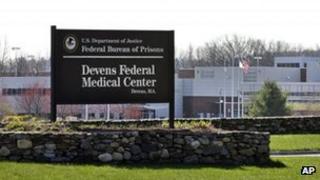 Boston Marathon bombing suspect Dzhokhar Tsarnaev has been transferred from hospital to prison, US police say.
The US Marshals Service said the 19-year-old had been moved from the Beth Israel Deaconess Medical Center to a facility at Fort Devens, Massachusetts.
He has been in hospital since his capture following a huge police operation a week ago.
Meanwhile, a driver allegedly carjacked by the suspects at gunpoint has told how he thought he was going to die.
The US Marshals Service said the accused, whose condition has been described as fair, was taken overnight to the Federal Medical Center Devens some 40 miles (65km) west of Boston.
Momentary distraction
The facility, on the decommissioned Fort Devens US Army base, treats federal prisoners who require specialised long-term medical or mental healthcare.
Many of those injured in the marathon blasts were also being treated at the Beth Israel Deaconess Medical Center, and were reportedly unhappy at having the suspect in the same building.
In an interview with the Boston Globe, a 26-year-old Chinese businessman has told how he was carjacked by Dzhokhar's older brother, several days after the attack on marathon.
He said Tamerlan Tsarnaev, 26, was brandishing a handgun and had warned him if he did not co-operate: "I will kill you."
The man, identified only as Danny, told how the three of them discussed everyday topics such as girls, cars and smartphones during the 90-minute journey.
While Dzhokhar Tsarnaev went into the petrol station to pay and Tamerlan Tsarnaev was distracted with a navigation device, Danny says he chose his moment to flee and alert police.
'Lies and hypocrisy'
"I was thinking I must do two things: unfasten my seatbelt and open the door and jump out as quick as I can," Danny told the Boston Globe. "If I didn't make it, he would kill me right out, he would kill me right away.
"I just did it. I did it very fast, using my left hand and right hand simultaneously to open the door, unfasten my seatbelt, jump out... and go."
His bravery allowed police to intercept the stolen car, prompting a shootout and manhunt that led to the death of the elder brother and the capture of the younger, possibly also averting a follow-up attack on New York, say the authorities.
New York police said on Thursday the Tsarnaev brothers had concocted a spur-of-the-moment plan to drive the hijacked car to Times Square and detonate their remaining explosives: a pressure cooker device and five pipe bombs.
Meanwhile, it is understood that the ethnic Chechen suspects' father, Anzor Tsarnaev, has not yet left for the US from the Russian republic of Dagestan, despite earlier saying he would do so.
He had said he planned if possible to bring his older son's body back to Russia for burial and defend his hospitalised son, who could face a death sentence if convicted for his alleged role in the bombings.
Meanwhile the Associated Press news agency reports the suspects' mother, Zubeidat Tsarnaeva, was added at the CIA's request to a US terrorist watch list 18 months ago.
The news agency reported earlier this week that her older son, Tamerlan, had also been added to the list, after Russian officials warned the US authorities he may have become radicalised.
"It's all lies and hypocrisy," Mrs Tsarnaeva told the Associated Press from Dagestan.