'Miracle' survival after St Lucia fishing boat sinks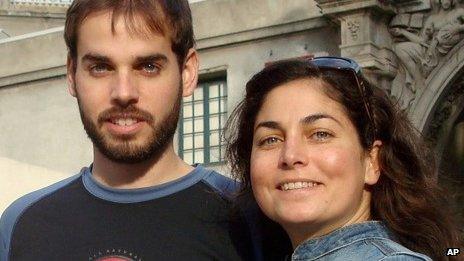 Tourism officials in St Lucia say it is a "miracle" that holidaymakers and fishermen survived after their boat sank off the coast of the Caribbean island.
US tourists Dan Suski and his sister Kate swam for nearly 14 hours after the group abandoned ship around 13km (8 miles) offshore.
The two crew members were rescued after 23 hours in the water.
Search planes had failed to spot them as they battled rough seas.
The holidaymakers had chartered the boat to go fishing for marlin off the island's north coast on 21 April.
But about four hours into the trip, the vessel began to flood. The crew made a distress call but were forced to abandon ship and watch it sink.
They were separated from the tourists, who began to swim towards land.
Ms Suski said one of their greatest fears was being eaten by sharks.
"There's this very real understanding that the situation is dire," she told the Associated Press.
After about 14 hours in the water, the siblings managed to pull themselves ashore on a spit of sand. They were found on a beach by a farm worker, and received hospital treatment for dehydration.
The crew members were found by rescuers after almost 24 hours lost at sea.
Local media said they had suffered minor bruises and cuts.
St Lucia's tourism minister, Lorne Theophilus, called their survival a "miracle".
Police are investigating what caused the boat to sink.