US Supreme Court rejects Shell torture case in Nigeria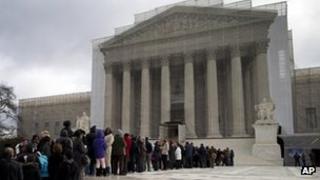 The Supreme Court has ruled US courts cannot hear lawsuits about human rights abuses abroad.
The nine justices unanimously said that a court in the state of New York could not hear a case against the Shell oil firm, over alleged abuses in Nigeria.
The case was filed by 12 Nigerians who say the firm was complicit in a deadly crackdown on protesters from 1992-95.
The ruling on one of the biggest human rights cases in years has been seen as a victory for corporations.
The plaintiffs in the case accused Shell of complicity in murder and other abuses committed by the Nigerian government against its citizens in the oil-rich Niger Delta two decades ago.
But Chief Justice Roberts said in his opinion that the Alien Tort Statute, a law passed in 1789, could not be used in the case against Shell because the law was not intended to be applied outside the US.
"Nothing in the text of the statute suggests that Congress intended causes of action recognised under it to have extraterritorial reach", Chief Justice Roberts wrote.
But the opinion suggested some cases, with a stronger connection to the US, might be allowed under the law.
The decision is expected to have an impact on other cases, including one against the mining company Rio Tinto over its actions in Papua New Guinea, or against oil giant Exxon Mobil over its operations in Indonesia.