Boston blasts: World reaction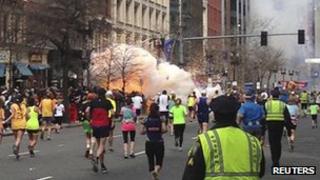 An investigation is under way after two explosions near the finish line of the Boston Marathon left three people dead and more than 150 injured.
News of the two blasts led to condemnation from leaders and government officials across the world.
UK Prime Minister David Cameron tweeted from his Downing Street account: "The scenes from Boston are shocking and horrific - my thoughts are with all those who have been affected."
Russian President Vladimir Putin said Russia "will be prepared, if need be, to render assistance in the investigation the US authorities are carrying out".
Afghan President Hamid Karzai denounced the attacks, sympathising with the American people: "Having suffered from terrorist attacks and civilian casualties for years, our people feel better the pain and suffering arising from such incidents."
'Heinous act of terrorism'
Pakistan's Foreign Office said the government "condemns this heinous act of terrorism in the strongest possible terms and hopes that the perpetrators of this barbaric act will be brought to justice".
French President Francois Hollande offered his condolences to the families of the victims and expressed France's "complete solidarity with the American authorities and people", in a statement from the Elysee Palace.
In a message to US President Barack Obama, Indian Prime Minister Manmohan Singh expressed India's solidarity with the American people.
The blasts are "a tragic reminder that the evil of terrorism that still threatened the US and India and lurks in our cities", he was quoted as saying in several Indian newspapers.
Italian Prime Minister Mario Monti described the attacks as "a cowardly act of violence that prompts disdain and leaves us shocked with its suffering and horror" in a message to President Obama.
The president of the European Council, Herman Van Rompuy, said in a press release on Tuesday: "I condemn the appalling acts carried out in Boston and deeply regret the tragic outcome and loss of innocent lives. Those responsible for the atrocious acts will be brought to justice."
'Senseless violence'
UN Secretary-General Ban Ki-moon described the bombing as "senseless violence", speaking at a ceremony commemorating the 19th anniversary of the Rwanda genocide.
Targeting the Boston Marathon was "all the more appalling for taking place at an event renowned for bringing people together from around the world in a spirit of sportsmanship and harmony", he added.
Japan's top government spokesman, Yoshihide Suga, extended his "heartfelt sympathies to the victims and their families of this painful incident".
Australian Prime Minister Julia Gillard issued a statement condemning the blasts: "Australia unreservedly condemns this brutal and senseless attack on what is a great event known around the world and one people participate in to have fun as their families and friends watch on."
The presidential office of Philippine President Benigno Aquino conveyed a message from the president of "deep sympathy, concern, and solidarity with the people of Boston, where he and his family had found refuge during martial law, and which so many Filipinos call home".
Speaking at the preparatory meeting of the OSCE's 21st economic and ecological forum in Kiev, Ukrainian Foreign Minister Leonid Kozhara said: "The terrorist attack in Boston shows that we have to unite our efforts."
'Cowardly attack'
There has also been condemnation from the world of sport.
The president of the International Association of Athletics Federations, Lamine Diack, said in a statement: "This ghastly and cowardly attack strikes at the very core of the freest of human activities.
"What makes this incident so vile and its planning so incomprehensible is that marathons the world over are about selfless acts of human generosity."
International Olympic Committee President Jacques Rogge said his thoughts and those of the whole Olympic movement were with the victims.
"A marathon is a special, almost magical event that unites different communities with one shared goal, and I am sure that this incident will serve to bring together all those who took part and all those who support such an event with a common resolve," he said.