US Senate opens first gun control debate in years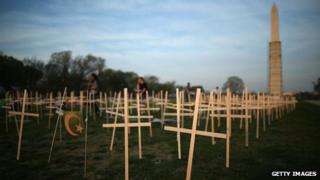 The US Senate has opened debate on a proposal to expand criminal background checks on gun buyers.
The bipartisan move marks the most serious consideration of gun control legislation in 19 years, though many hurdles remain before final passage.
Meanwhile, gun control advocates have gathered in Washington DC to make an emotional push for new restrictions.
The powerful gun lobby vows to oppose new gun control measures, arguing the US Constitution forbids them.
Thursday's procedural vote to begin debate passed 68-31, with a handful of Republicans joining all but two Democrats, who have the majority in the chamber.
It is the furthest into the legislative process any gun control bill has moved since 1994, when an assault weapons ban passed.
But where the debate goes from here is uncertain, says the BBC's Paul Adams in Washington.
Senators could take weeks to thrash out all the likely amendments. And crucially, there's absolutely no guarantee that any of this will actually become law, our correspondent says.
'Far ahead'
Gun control advocates planned several events on Thursday to draw attention to what is described as a national gun violence epidemic.
Religious leaders from Newtown, Connecticut began a 24-hour vigil at 11:30 local time (16:30 GMT) on the National Mall near the White House and Capitol building.
More than 3,300 grave markers placed there will represent those killed by guns since a gunman killed 26 people at a primary school in Newtown in December.
Another group has been reading aloud the names, places and ages of these gun violence victims.
The lobbying push by both gun control and gun rights groups comes as a Democratic and a Republican senator have announced an agreement on a bill to expand background checks.
On Wednesday, Democrat Joe Manchin of West Virginia and Republican Patrick Toomey of Pennsylvania unveiled a deal that would expand criminal background checks to online and gun show sales, establish a commission on mass violence, and ease some restrictions on transporting guns across state lines.
Their proposal is being hailed as the best chance for new gun control legislation, though it falls short of the far stricter measures backed by the White House.
Currently, so-called private gun sales by dealers who are not licensed, including some at gun shows, are not subject to criminal background checks on the purchaser.
Vice-President Joe Biden, a strong supporter of new gun control legislation, told MSNBC's Morning Joe programme on Thursday that gun control was "one of the cases where the public is so far ahead of the elected officials".
Mr Biden also accused the nation's top gun rights lobbying group, the National Rifle Association (NRA), of spreading disinformation, and promised expanded background checks would not lead to a national gun registry.
Gun lobby warning
But the NRA opposes the Manchin-Toomey deal, arguing background checks do nothing to prevent gun violence.
In a letter to senators on Wednesday, NRA lobbyist Chris Cox warned that the organisation would score lawmakers based on their votes on the Manchin-Toomey deal and other measures it opposes.
President Barack Obama's other proposals, including a ban on assault weapons and high-capacity ammunition magazines, have not gained traction in Congress.
After Thursday's vote, President Obama spoke to the families of Newtown victims, some of whom have become advocates for gun control, his spokesman said.
"The president congratulated the families on this important step forward, noting that the bipartisan progress would not have been possible without their efforts," White House press secretary Jay Carney told reporters.
Senators will soon vote on a series of amendments to the legislation and then once more to close debate, before voting on the bill itself.
Prospects for legislation in the House are unclear, with Republican House Speaker John Boehner declining to say whether the lower chamber would hold a floor vote on the issue.
"I've made it clear that if the Senate passes a bill, the House will certainly review it," Mr Boehner told reporters on Thursday.
"The thing that we have to remember is that laws are only as good as our citizens' willingness to obey them. And law-abiding citizens, do, in fact, obey them. Criminals don't obey them. In addition to that, we've got a system of laws that are not in force today."