Maine 'North Pond Hermit ' Christopher Knight held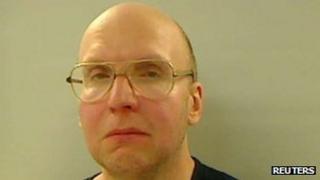 A man who lived as a hermit in the Maine woods for nearly three decades committed more than 1,000 burglaries for food and supplies, police say.
Christopher Knight was arrested last week after setting off a motion sensor in an alleged break-in at a youth camp.
On Tuesday, police said they found the site where the so-called North Pond Hermit was said to have lived for 27 years with virtually no human contact.
His existence has become part of local lore in the small Maine town of Rome.
Police say Mr Knight, 47, treated a nearby camp for disabled children and adults like a "local Walmart", pillaging it for supplies when needed, the Kennebec Journal newspaper reported.
His arrest on 4 April is believed to be his first contact with other people in 27 years, save a greeting he exchanged with a hiker in the 1990s.
Authorities believe him responsible for more than 1,000 burglaries during that period. But under Maine's statute of limitations he can only be prosecuted for those committed within the last six years.
Some residents of Rome, a town of about 1,000 people, say Mr Knight had occasionally been seen walking near a lake known as the North Pond. Others saw his shelter while walking in the nearby woods.
"I've lived in the town for 32 years and I've never, ever met the guy," local politician Paul Anderson told the Associated Press news agency.
Mr Knight's camp is said to include a tent covered by tarpaulin hung between trees, cooking stoves, a bed, and a battery-operated radio.
"Anybody that's hunted in the woods has seen a pile of rubble but didn't think anything of it," said Ron Churchill, owner of Bear Spring Camps in Rome, who said he discovered two propane containers missing on Wednesday.
Mr Knight is being held at the Kennebec County jail on charges of burglary and theft.